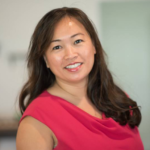 SreyRam Kuy, MD
General Surgeon
SreyRam Kuy, MD, MHS, FACS is a practicing general surgeon caring for veterans as Associate Chief of Staff at the Michael E DeBakey Veterans Affairs Medical Center, the most complex VA medical center in the country where she leads 5,000 staff in the efforts to improve healthcare quality, patient safety and value based care for our nation's heroes.
DDr. Kuy previously served as Chief Medical Officer for Medicaid in the Louisiana Department of Health. As CMO for Louisiana Medicaid, Dr. Kuy led the drive for improving healthcare quality, promoting cost effectiveness and increasing health information technology adoption in a $10.7 billion health system serving 1.6 million patients. Under her leadership, Louisiana Medicaid was the first state to develop a Zika prevention strategy for pregnant Medicaid patients and enabled women with breast cancer to have access to needed reconstructive surgery and BRCA testing. During Louisiana's Great Flood, Dr. Kuy led efforts to coordinate medical disaster relief efforts, ensured patients had access to prescription medications and medical equipment lost during the flood, and did educational outreach campaigns about flood health hazards in public town halls.
Dr. Kuy led Louisiana Medicaid's initiative to tackle the opioid epidemic as the first state in the South to implement a cohesive strategy that included opioid prescription payment reforms based on CDC guidelines, educational resources for providers and the public, and naloxone access enabling people to intervene during an overdose & save lives.
Dr. Kuy has developed state wide health performance metrics, pay for performance incentives, and established novel "Medicaid Expansion Early Wins measures" which enable the state of Louisiana to assess how access to healthcare directly impacts lives, which have been profiled by NPR and are being implemented in other states.
Born in Cambodia during a genocide known as the Killing Fields, SreyRam and her family escaped to a border refugee camp but were severely injured by errant RPG explosives. A volunteer Red Cross surgeon saved her life and inspired SreyRam to become a surgeon herself. Christian missionaries helped SreyRam and her family come to America, where she grew up in Oregon, graduated as Valedictorian from Crescent Valley High School, and attended Oregon State University earning dual degrees in Philosophy and Microbiology. She attended medical school at Oregon Health & Sciences University, then finished general surgery residency. SreyRam completed her master's degree in healthcare policy at Yale University School of Medicine as a Robert Wood Johnson Clinical Scholar and executive management leadership training at the Brandeis Heller School of Management as an American College of Surgeons Health Policy Scholar.
Dr. Kuy received Business Report's 40 Under 40 Award, Oregon Health & Sciences University Alumni Early Career Achievement Award, American College of Surgeon's Inspiring Woman in Surgery Mary Edwards Walker Award, Ford Foundation's Gerald E. Bruce Community Service Award, and RadomActs.Org's "Caught in the Act" national public service award.
This year Dr. Kuy was selected as a Presidential Leadership Scholar, where she had the opportunity to learn from President George W. Bush and President Bill Clinton about leadership. As the keynote speaker at the Presidential Leadership Scholars graduation, Dr. Kuy spoke about what a privilege it is to live in a country where we have freedom to pursue our dreams and the opportunity to serve our communities. "Everyone truly deserves a chance, and given that chance, we can take the risk and see what life yields."
SreyRam's goal is to inspire the hope to dream, the courage to persevere and the faith to take that risk and make our communities better.