Prepping for Mission 11 is in the works. Some of the ordered medical supplies and medicines are arriving. Lots of volunteers needed to help prepackage to send to Cambodia.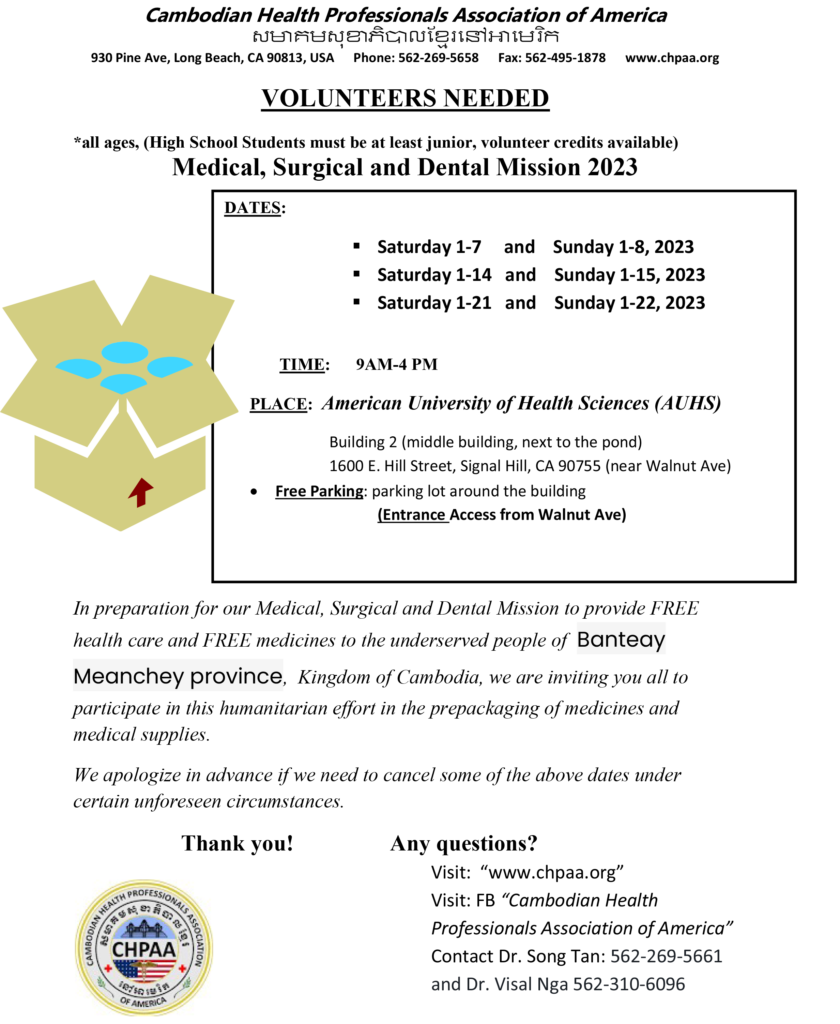 Mission Flight Itinerary
If you have already submitted the mission application, be sure to also submit your flight itinerary so CHPAA can schedule your pick-up and drop-off at Phnom Penh airport.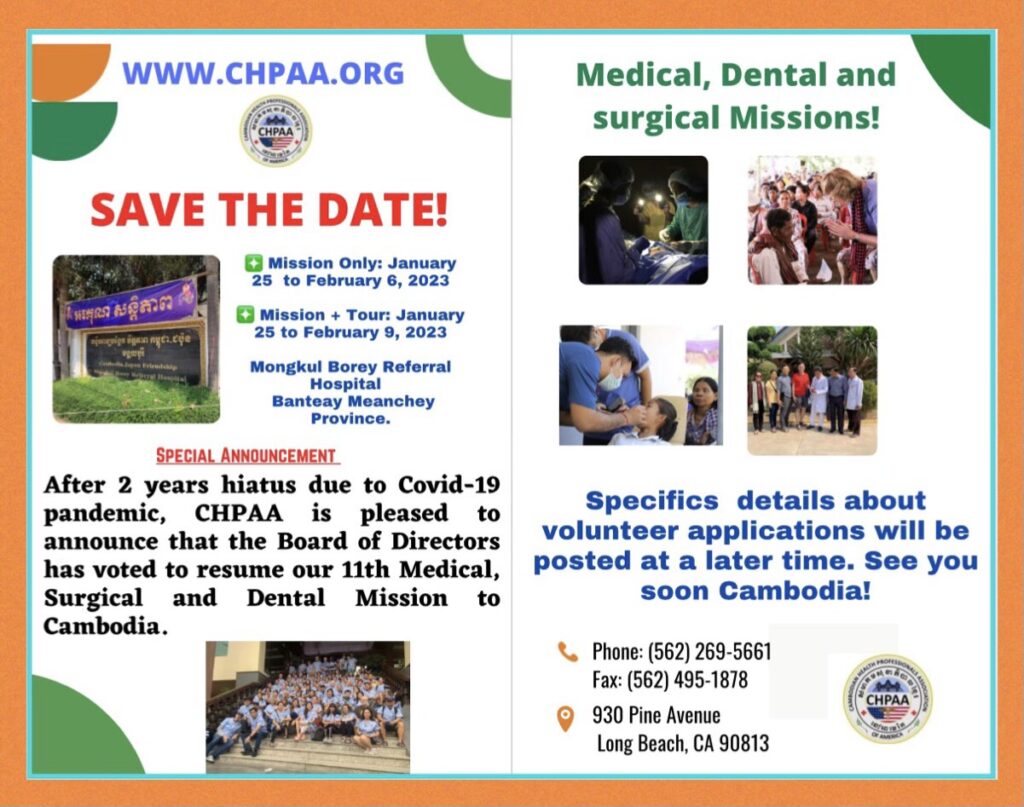 Join us on the upcoming mission 11 to Banteay Meanchey province from January 25 to February 9, 2023.
Apply online now (Expired)
Due to the request by our volunteers, CHPAA is extending the application deadline to 12/10/2022
Although our online application is closed, we are still accepting applications on a case by case basis. Please contact Dr. Song Tan for paper application at [email protected].

**PSA: CHPAA's Cambodian Doctors Address Misconceptions About Covid 19 Vaccine!
On behalf of CHPAA, we urge everyone to go get vaccinated as soon as possible. The vaccines are safe and effective. Let us do our parts to end this pandemic together!
ក្នុងនាមសមាគមសុខាភិបាលខ្មែរនៅអាមេរិក យើងខ្ញុំសូមធ្វើសំណូមពរ ឱ្យបងប្អូនយើងទាំងអស់ នាំគ្នាទៅចាក់វ៉ាក់សាំងឱ្យបានទាន់ពេលវេលា បើអាចធ្វើបាន។ វ៉ាក់សាំងនេះមានសុវត្ថិភាព និងប្រសិទ្ធភាពល្អ។ សូមបងប្អូនចូលរួមចំណែកទាំងអស់គ្នា ដើម្បីបញ្ចប់ជម្ងឺរាតត្បាតនេះ។

Promoting Health Through Service and Education

Cambodian Health Professionals Association of America (CHPAA) is a nonprofit organization that is exclusively humanitarian, working to promote health and social well-being through ongoing service and education to medically underserved Cambodians living in both the United States and Cambodia.
To maintain on-going success, CHPAA relies on generous support from our sponsors.  Please consider donating today.
$100 Provides complete course of antibiotic therapy for 45 patients, or a month of pain therapy for 60 patients
$200 Provides six months of crucial vitamins to 40 children, or nine months of prenatal vitamins to 30 women
$300 Provides 500 pairs of eyeglasses or 900 toothbrushes
$400 Provides materials for 5 general surgeries or 8 cataract surgeries
$500 Provides a dental unit that can perform 180 dental fillings or 300 extractions in a week
$1000 Provides two pallets of medications that are not available to the underserved in Cambodia.
We strengthen community by promoting healthy lifestyles, regular check-up, and education to local Cambodians and other ethnic groups.  Providing communities and individuals with information about the US healthcare system.
We maintain an ongoing network of healthcare professionals in the US.  Maintaining an ongoing network with healthcare professionals in Cambodia.  We nurture and support the development of CHPAA volunteers.  We build community bonding through local cultural events and galas.
We offer locals junior highs, high schools, and universities  students an opportunity to volunteer and serve their community.  We mentor local Cambodian-American students entering the healthcare professions.  100 percent of our volunteering students have been accepted to graduate school.
We conduct annual medical, surgical, and dental mission to Cambodia to provide medical care services and education free of charge to the under-served Cambodian population .  We have completed 10 missions and looking forward to our 11th Mission to Banteay Meanchey Province, Cambodia in January 2021.
We provide scholarships to deserving students and volunteers pursuing careers in the healthcare field.
We organize local health events & fairs.  We conduct fundraising, cultural events, and galas.