Cambodian Health Professionals Association of America (CHPAA) is a non-profit organization that provides free medical, dental, and surgical services, as well as much needed health education to the underserved people of Cambodia. In the United States, CHPAA addresses health disparity through community outreach, health fair, mentorship, role modeling and scholarships. CHPAA awards annual scholarships to students who pursue careers in healthcare both in the United States and Cambodia. Students who are awarded these scholarships would have to demonstrate active involvements in community services, volunteerism, and strong aspirations for academic achievements.
The scholarship awards:
For recipients in Cambodia:

5 CHPAA scholarship awards: $500 each

For recipients in the US:

2 CHPAA scholarship awards: $1000 each
1 Linath Lim, MD Memorial Scholarship award***: $2000 (only Los Angeles county residents are qualified)
In evaluating scholarship applications, consideration will be given to:
In the US, undergraduate students who are pre-health (Pre-med, Pre-dental, Pre-pharmacy, Pre-nursing or Nursing, and allied health)
In Cambodia, students in healthcare majors (Medicine, Dentistry, Pharmacy, Nursing, and allied health)
Volunteer in community services, NGOs, and healthcare organizations, academic achievements.
Applicants who are closely related to CHPAA board members are not eligible to apply.
For Linath Lim, MD Memorial Scholarship, strong emphasis is given to community services and volunteerism. Eligible applicants must be residents in the greater Los Angeles area, and qualify under low to middle income individual/family as defined by the State of California. Driver license or ID card is an acceptable proof of residency. Applicants are required to provide an attestation of income confirming eligibility based on income requirement.
Selection Criteria:
Please provide the following:

Completed application form
A copy of school transcripts
Your curriculum vitae
For Linath Lim, MD Memorial Scholarship: driver license or ID, and attestation of income eligibility  of low to middle family income
Essay: 500-word essay. Tell us about yourself, your personal and career goals, and what contributions you see yourself making to your community.
Application Instructions:
Please apply online via CHPAA website: www.chpaa.org
Application must be completed no later than October 29, 2023.
*** Dr Linath Lim was an internal medicine specialist, and hospitalist in Fresno, CA. In early 2021, she passed away due to complications from COVID-19 infection, while taking care of numerous COVID-19 patients in the hospital. She was a killing field survivor who immigrated to US in 1982. She worked her way through college, and then medical school on her own. She worked with medically under-served communities, was one of the first CHPAA volunteers, and joined CHPAA missions to Cambodia twice. She was loved and endeared by her colleagues for her selfless contribution to providing the best care for her patients, and helping her fellow healthcare workers who were in need. This scholarship is funded by Enterprise Bank and Trust.
Any questions regarding this application, please email [email protected].
Apply Online
Expired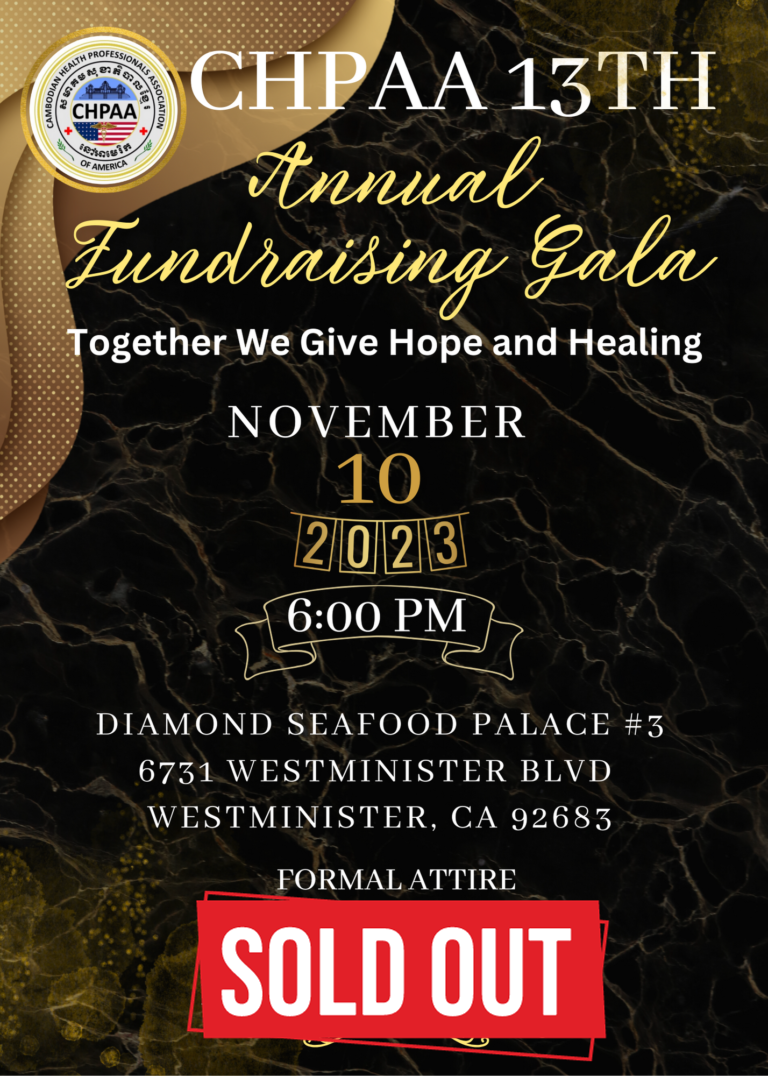 We are pleased to invite you to join us for CHPAA 13th Annual Fundraising Gala.
After a two-year pandemic induced hiatus, CHPAA has resumed its 11th Annual Surgical, Ophthalmology, Medical and Dental Mission to the Province of Banteay Meanchey, Kingdom of Cambodia. Almost 200 Volunteers from the US, Canada, Australia and Cambodia have joined this mission to provide free Surgical, Ophthalmology, Medical and Dental care with free medications to 5,637 patients. 
Preparations are under way for our Mission 12 to take place from January 24 to February 8, 2024, to the Province of Preah Vihear.
Locally, we continue to be involved in health education and promotion through various community health forums and health fairs. We continue to cultivate our next generations of health professions through mentorship, role modeling, and providing scholarship to deserving and needy students who aspire to enter the health profession.
We are grateful if you can sponsor and/or join us for this fun-filled 13th Annual Fundraising Gala in support of our mission. Proceeds of this fundraising go directly toward purchasing surgical, medical and ophthalmology equipment, supplies, medications, and patient-related expenses.  Volunteers are paying their out-of-pocket expenses for airfare, transportation, and room and board.
Purchase Tickets
SOLD OUT