December 6, 2022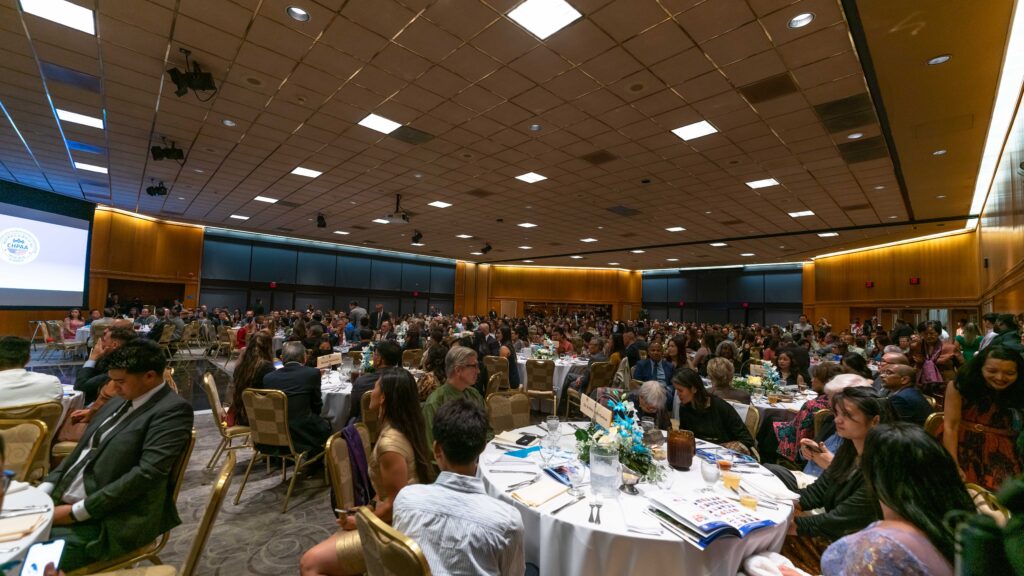 September 18, 2022
Cambodian Health Professionals Association of America (CHPAA) is a non-profit organization that provides free medical, dental, and surgical services, as well as much needed health education to the underserved people of Cambodia. In the United States, CHPAA addresses health disparity through community outreach, health fair, mentorship, role modeling and scholarships. CHPAA awards annual scholarships to students who pursue careers in healthcare both in the United States and Cambodia. Students who are awarded these scholarships would have to demonstrate active involvements in community services, volunteerism, and strong aspirations for academic achievements.
The scholarship awards:
For recipients in Cambodia:

3 CHPAA scholarship awards: $500 each

For recipients in the US:

2 CHPAA scholarship awards: $1000 each
1 Linath Lim, MD Memorial Scholarship award***: $2000 (only Los Angeles county residents are qualified)
In evaluating scholarship applications, consideration will be given to:
In the US, undergraduate students who are pre-health (Pre-med, Pre-dental, Pre-pharmacy, Pre-nursing or Nursing, and allied health)
In Cambodia, students in healthcare majors (Medicine, Dentistry, Pharmacy, Nursing, and allied health)
Volunteer in community services, NGOs, and healthcare organizations, academic achievements.
Applicants who are closely related to CHPAA board members are not eligible to apply.
For Linath Lim, MD Memorial Scholarship, strong emphasis is given to community services and volunteerism. Eligible applicants must be residents in the greater Los Angeles area, and qualify under low to middle income individual/family as defined by the State of California. Driver license or ID card is an acceptable proof of residency. Applicants are required to provide an attestation of income confirming eligibility based on income requirement.
Selection Criteria:
Please provide the following:

Completed application form
A copy of school transcripts
Your curriculum vitae
For Linath Lim, MD Memorial Scholarship: driver license or ID, and attestation of income eligibility  of low to middle family income
Essay: 500-word essay. Tell us about yourself, your personal and career goals, and what contributions you see yourself making to your community.
Application Instructions:
Please apply online via CHPAA website: www.chpaa.org
Application must be completed no later than October 23, 2022.
*** Dr Linath Lim was an internal medicine specialist, and hospitalist in Fresno, CA. In early 2021, she passed away due to complications from COVID-19 infection, while taking care of numerous COVID-19 patients in the hospital. She was a killing field survivor who immigrated to US in 1982. She worked her way through college, and then medical school on her own. She worked with medically under-served communities, was one of the first CHPAA volunteers, and joined CHPAA missions to Cambodia twice. She was loved and endeared by her colleagues for her selfless contribution to providing the best care for her patients, and helping her fellow healthcare workers who were in need. This scholarship is funded by Enterprise Bank and Trust.
Any questions regarding this application, please email [email protected].
Expired
Apply online now
September 5, 2022
Thanks to the overwhelming support of friends and CHPAA family, we have the pleasure to announce that our 12th Annual Fundraising Gala tickets have SOLD OUT!
We appreciate and thank all our registered guests for their continued support and we look forward to seeing all of you on Friday, November 18, 2022.
We are accepting donations via our
Facebook
and website. You can also text to donate: Text CHPAA to 707070
Please email us at
[email protected]
if you wish to be placed on the waitlist if there are any cancellations.
---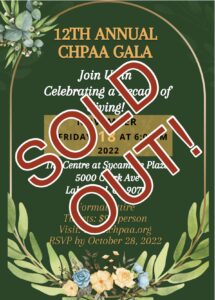 EXCITING NEWS UPDATE!
Cambodian superstar, Doung Virakseth, will be performing LIVE at CHPAA 12th Annual gala on Friday, November 18, 2022! You will not want to miss out on this spectacular fundraising event!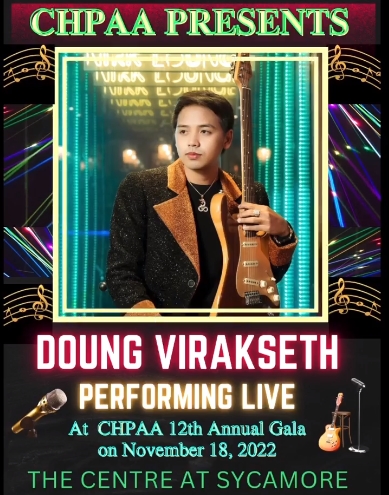 ---
Cambodian Health Professionals Association of America (CHPAA) is resuming its in-person Annual Fundraising Gala to celebrate the 25th anniversary of its founding and decades of giving.
Since its inception in 1997, CHPAA has played a significant role in our underserved community to promote health through education, advocacy, community health fairs, health forums and public service announcements. In this once-in-a-century public health crisis, CHPAA, a respected organization, represents an authoritative and trusted voice in educating our community about public health measures, vaccine, and misinformation about COVID.
CHPAA has been providing mentorship, training, and scholarships to aspiring pre-health students. In addition to our regular scholarships, a special "Linath Lim, MD Memorial Scholarship" has been established in her memory. Dr. Linath Lim, who succumbed to COVID-19 in the line of duty, was a steadfast supporter and steward of CHPAA. She was one of the first few members and volunteers for CHPAA missions.
We are grateful if you can sponsor and join us as 100% of the proceeds of this fundraising will go toward providing direct FREE medical care to the underserved people of Cambodia.

Seats are limited. Please reserve your tickets by October 28, 2022.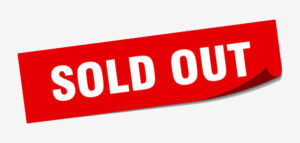 Please consider placing advertisements for your business in our Gala Program booklet. The booklet will be printed and distributed throughout the community.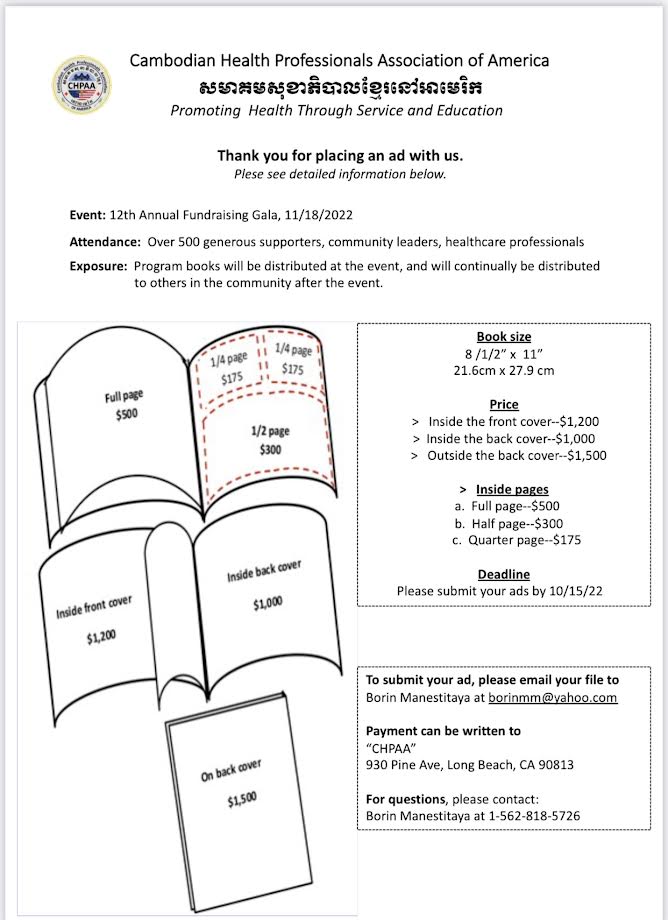 **CHPAA Charity Golf Tournament!!!
On October 30, 2021 @ El Dorado Golf Course
In lieu of our November gala, CHPAA will be hosting a Charity Golf Tournament on October 30, 2021 @ El Dorado Golf Course. We look forward to seeing you!
Please join us for a day of golf, delicious food and giving! Proceeds will go towards our ongoing medical, dental, surgical missions and student scholarships.
CLICK on flyer below for forms and payments
Spaces are limited so please RSVP by October 15, 2021.
Prices(per person):
$200 (includes golf, shared cart, lunch box and dinner banquet)
$65 (dinner banquet only)
El Dorado Golf venue can only accommodate 40 golfers and 250 guests for the dinner banquet.
CHPAA strongly recommends that guests are fully vaccinated and wearing masks.
***CLICK ON FLYER BELOW TO RETRIEVE PDF FILE***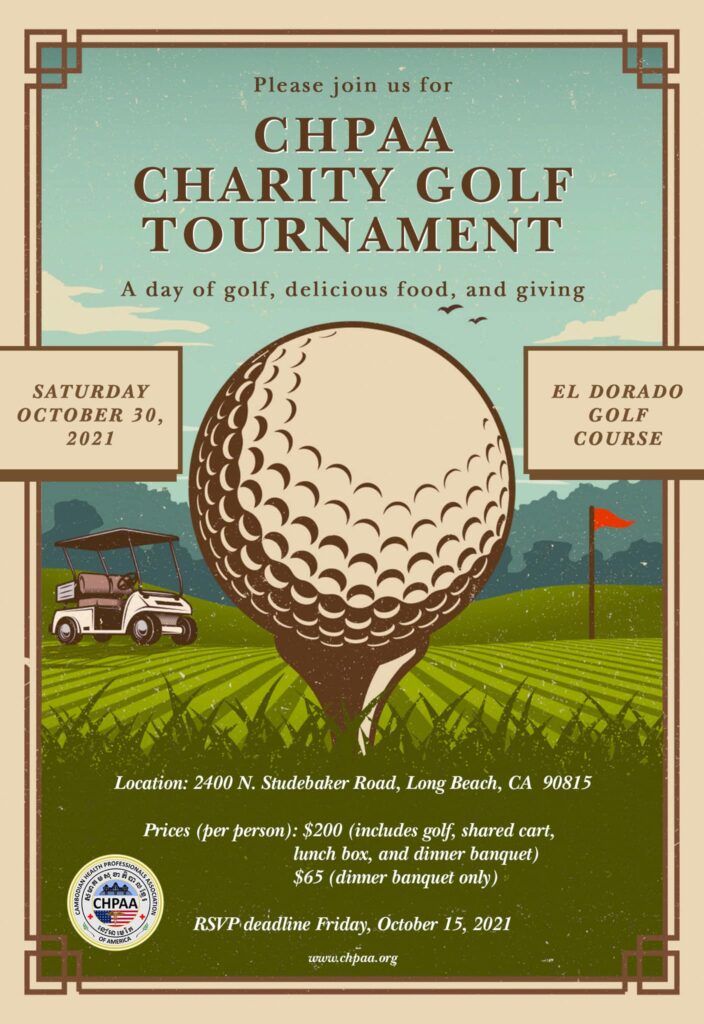 **PSA: CHPAA's Cambodian Doctors Address Misconceptions About Covid 19 Vaccine!
On behalf of CHPAA, we urge everyone to go get vaccinated as soon as possible. The vaccines are safe and effective. Let us do our parts to end this pandemic together!
ក្នុងនាមសមាគមសុខាភិបាលខ្មែរនៅអាមេរិក យើងខ្ញុំសូមធ្វើសំណូមពរ ឱ្យបងប្អូនយើងទាំងអស់ នាំគ្នាទៅចាក់វ៉ាក់សាំងឱ្យបានទាន់ពេលវេលា បើអាចធ្វើបាន។ វ៉ាក់សាំងនេះមានសុវត្ថិភាព និងប្រសិទ្ធភាពល្អ។ សូមបងប្អូនចូលរួមចំណែកទាំងអស់គ្នា ដើម្បីបញ្ចប់ជម្ងឺរាតត្បាតនេះ។
**Announcement of the passing of Mrs. Jasenka Stojic from our President, Dr. Song Tan: *
Announcement of the passing of Mrs. Jasenka Stojic:We have learned with sadness of the passing of one of CHPAA volunteers, Mrs. Jasenka Stojic.
Jasenka is one of our most dedicated mission volunteers, who joined our missions with her daughter dentist, Liliana Stojic, DDS to selflessly serve the underprivileged people of Cambodia in three missions. She had special affinity with the young children and older people. Even though she does not speak Khmer and very little English, she speaks the universal language of "Love", a "Love Without Borders". Called affectionately "Mama", she was a role model for her dedication and her huge heart. For that reason, she was voted as the sole recipient of the "CHPAA 2016 Outstanding Volunteer Award" at our 7th Annual Fundraising Gala on November 4, 2016.
Jasenka was born and lived in Croatia all her life. She was a medical student when she first met her dentist husband. They ended up having two beautiful daughters, one of whom is Dr. Stojic. Being a devoted mother, she believes family came first, therefore she ended up dropping from her studies to raise her daughters. Jasenka's new adventure in the last few years with CHPAA has become the highlight of her life. She never missed a chance to tell her story about her CHPAA missions to anyone who would listen. Even during the last few days of life in the hospital, to quote Liliana, "her attending physician would bring Medical Students to "Mama" so that she could tell them about Cambodia and to inspire them with her volunteer work with CHPAA".
She returned to her beloved Croatia during the pandemic in July 2020 after spending time visiting her daughter in California. Unfortunately, she contracted Covid-19 during her last hospital stay and she passed away just a few days later, on May 5, 2021.
Once again, CHPAA family is grieving for the loss of one of our most outstanding volunteers to COVID-19. We have lost a global citizen, a humanitarian and a CHPAA family member! On behalf of our CHPAA family, I would like to extend to Liliana and her family our most sincere condolences. May Jasenka Rest in Eternal Peace!

**Announcement of the passing of Dr. Linath Lim from our President, Dr. Song Tan: *
Announcement of the passing of Dr. Linath Lim from our President, Dr. Song Tan:
It is with extreme sadness that we learn that Dr. Linath Lim is no longer with us. The CHPAA family has lost one of our members in the fight against this pandemic. Dr. Linath Lim, who was featured in CHPAA Virtual Gala on November 6, 2020 in tribute to the front line healthcare workers, died of COVID-19 on January 18, 2021. This death is a sobering reminder of the magnitude of this pandemic and that the front line healthcare workers are putting their heath and lives at harm's way doing their heroic job saving lives.
Dr. Lim's life is one of courage, resilience and triumph. She was born October 8, 1962 in Cambodia. During her years in Bak Touk High School in Phnom Penh, the Khmer Rouge took over the country, depriving her of her most formative years of education. She was lucky to have survived those horrendous years of the Cambodian Genocide.
She arrived to America in 1982, at the age of 20. After she obtained her GED, she attended Taft College, city of Taft in the San Joaquin Valley, California and transferred to California State University, Fresno. Then, she went on to graduate from Medical College of Pennsylvania in 1993. She completed her residency in Internal Medicine from Loma Linda Medical Center in 1996. She has been working as a hospitalist at the Emergency Department of the Community Regional Medical Center in Fresno, California.
Being one of the first Cambodian American survivors of the Killing Fields to have graduated from US Medical Schools, she has committed herself to giving back in community services. She was among the small group of Cambodian American Health Professionals who attended the first meetings in the early stage of the founding of the Cambodian Heath Professionals Association of America (CHPAA) in 1997. She participated in the inaugural medical and dental mission to Cambodia in January 2011 and again in 2017 to Tbong Khmum and Kampong Cham provinces to provide free medical care to the underserved people of Cambodia. As part of the CHPAA family, she is a steadfast supporter and steward of CHPAA. To those who know her well, she has a huge heart, filled with kindness, compassion and the passion to help others.
Well aware of her significant personal risks in this pandemic and out of her sense of duty, she has no hesitation in carrying out her duty as a physician in caring for COVID patients, especially during the upsurge of COVID cases of late. Having survived the tremendous hardship and starvation in Cambodia, she ironically succumbed to COVID in the line of duty in America. We all owe a debt of gratitude to the sacrifices of all the unsung heroes like Dr. Linath Lim.
On behalf of CHPAA family, I would like to extend my deepest condolences to her family. My her Soul Rest In Eternal Peace!
Translation in Khmer by Sanghak Kan:
សេចក្តីប្រកាសពីមរណភាពនៃវេជ្ជបណ្ឌិត លឹម លីណាត
យើងមានសេចក្តីទុក្ខក្រៀមក្រំជាខ្លាំង ក្រោយបានដឹងថា វេជ្ជបណ្ឌិត លឹម លីណាត លែងស្ថិតនៅជាមួយយើងទៀតហើយ។ គ្រួសារនៃសមាគមសុខាភិបាលខ្មែរនៅអាមេរិក (CHPAA) បានបាត់បង់សមាជិកម្នាក់ នៅក្នុងការប្រយុទ្ធប្រឆាំងការរាលដាលជំងឺកូវីដ។ វេជ្ជបណ្ឌិត លឹម លីណាត ដែលមានសកម្មភាពលេចធ្លោក្នុងពិធីជួបជុំតាមអនឡាញនៃCHPAA កាលពី ថ្ងៃទី៦ ខែវិច្ឆិកា ឆ្នាំ២០២០ នៅក្នុងវិភាគទានចំពោះភ្នាក់ងារថែទាំសុខភាពជួរមុខ បានទទួលមរណភាពពី ថ្ងៃទី១៨ ខែមករា ឆ្នាំ២០២១ ដោយសារជំងឺកូវីដ១៩។ មរណភាពនេះរម្លឹកយើងនូវការព្រួយបារម្ភអំពីទំហំនៃការរីករាលដាលជំងឺនេះ ដែលភ្នាក់ងារថែទាំសុខភាពជួរមុខបានប្រថុយសុខភាព និងជីវិតរបស់ពួកគេ ប្រកបដោយសេចក្តីក្លាហាននៅក្នុងការងារជួយសង្រ្គោះជីវិតមនុស្ស។
ខ្សែជីវិតវេជ្ជបណ្ឌិត លឹម ប្រកបដោយភាពមោះមុត រឹងមាំ និងជោគជ័យ។ គាត់កើតនៅ ថ្ងៃទី៨ ខែតុលា ឆ្នាំ១៩៦២ ក្នុងប្រទេសកម្ពុជា។ ក្នុងពេលកំពុងសិក្សានៅសាលាមធ្យមសិក្សាបាក់ទូក កងទ័ពខ្មែរក្រហមបានចូលកាន់កាប់ប្រទេស ដោយបានធ្វើឱ្យគាត់បាត់បង់ការសិក្សាជាផ្លូវការ។ គាត់មានសំណាងដោយបានរស់រានមានជីវិត ពីរបបប្រល័យពូជសាសន៍ដ៏គួរឱ្យស្អប់ខ្ពើមនៅកម្ពុជា។
គាត់បានមកដល់សហរដ្ឋអាមេរិកនៅ ឆ្នាំ១៩៨២ ក្នុងវ័យ ២០ឆ្នាំ។ បន្ទាប់ពីបានប្រឡងយកសញ្ញាបត្រសិក្សាចំណេះទូទៅ (GED) គាត់បានចូលរៀននៅមហាវិទ្យាល័យថាហ្វ នៃទីក្រុងថាហ្វ (Taft College) នៅជ្រលងភ្នំ សានចូគីន (San Joaquin Valley) រដ្ឋកាលីហ្វ័រញ៉ា និងត្រូវបានផ្ទេរមកសកលវិទ្យាល័យ រដ្ឋកាលីហ្វ័រញ៉ា នៅហ្រ្វែស្នូ (California State University, Fresno)។ បន្ទាប់មក គាត់បានបន្តការសិក្សារហូតដល់ចប់ នៅមហាវិទ្យាល័យវេជ្ជសាស្រ្តប៉េនសី្វ៉ានីញ៉ា(Medical College of Pennsylvania) នៅឆ្នាំ១៩៩៣។ គាត់បានបញ្ចប់ការសិក្សាមុខវិជ្ជាវេជ្ជសាស្រ្តព្យាបាលសរីរាង្គក្នុង នៅ មន្ទីរពេទ្យមជ្ឈមណ្ឌលវេជ្ជសាស្រ្តឡូម៉ា លីនដា (Loma Linda Medical Center) ក្នុងឆ្នាំ១៩៩៦។ គាត់បានបន្តធ្វើការនៅផ្នែកសង្រ្គោះបន្ទាន់នៅមន្ទីរពេទ្យមនៃមជ្ឈមណ្ឌលវេជ្ជសាស្រ្តសហគមន៍ថ្នាក់តំបន់(Community Regional Medical Center)នៅហ្រែស្នូ រដ្ឋកាលីហ្វ័រញ៉ា។
ក្នុងនាមខ្មែរអាមេរិកកាំងដំបូងដែលរួចជីវិតពីវាលពិឃាដដែលបានសិក្សាចប់មហាវិទ្យាល័យវេជ្ជសាស្រ្តនានានៅសហរដ្ឋអាមេរិក គាត់បានប្តេជ្ញាផ្តល់សេវាជាការតបស្នងត្រឡប់មកសហគមន៍វិញ។ គាត់ស្ថិតក្នុងចំណោមមនុស្សមួយក្រុមតូចនៃអ្នកជំនាញផ្នែកសុខភាពខ្មែរអាមេរិកាំងដែលបានចូលរួមក្នុងការប្រជុំដំបូងៗនៅដំណាក់កាលដើមដំបូងនៃការបង្កើតសមាគមសុខាភិបាលខ្មែរនៅអាមេរិកក្នុង ឆ្នាំ១៩៩៧។ គាត់បានចូលរួមក្នុងបេសកកម្មចាប់ផ្តើមដំបូងសម្រាប់ការព្យាបាលជំងឺទូទៅ និងព្យាបាលធ្មេញ ទៅកាន់ប្រទេសកម្ពុជាកាលពី ខែមករា ឆ្នាំ២០១១ និងម្តងទៀតនៅឆ្នាំ២០១៧ ក្នុងខេត្តត្បូងឃ្មុំ និងខេត្តកំពង់ចាម ដើម្បីផ្តល់ការថែទាំវេជ្ជសាស្រ្ត មិនគិតកម្រៃដល់ប្រជាជនខ្មែរដែលពុំបានទទួលសេវាសុខាភិបាលគ្រប់គ្រាន់។ ជាសមាជិកគ្រួសារសមាគមសុខាភិបាលខ្មែរនៅអាមេរិក គាត់គឺជាអ្នកគាំទ្រនិងជាអ្នកទទួលខុសត្រូវដ៏ស្មោះត្រង់ម្នាក់។ ចំពោះអ្នកដែលស្គាល់គាត់ច្បាស់ គាត់មានបេះដូងធំធេងពោរពេញទៅដោយទឹកចិត្តសប្បុរស សេចក្តីមេត្តា និងការប្តេជ្ញាជួយយកអាសារអ្នកដទៃ។
ទោះបីដឹងយ៉ាងច្បាស់ពីហានិភ័យដ៏ធំធេងដែលប្រឈមចំពោះខ្លួននៅក្នុងដំណាក់កាលរាតត្បាតជំងឺកូវីដ១៩ ក៏ដោយ ហេតុតែស្មារតីនៃការបំពេញករណីកិច្ចរបស់ខ្លួន គាត់មិនរារែកក្នុងការបំពេញមុខងារជាគ្រូពេទ្យឡើយនៅក្នុងភារៈកិច្ចថែរក្សាសុខភាពអ្នកជំងឺកូវីដ ជាពិសេសក្នុងអំឡុងពេលថ្មីៗនេះដែលមានកំណើនខ្ពស់ករណីកូវីដ១៩។ ទោះបីធ្លាប់បានឆ្លងកាត់ការលំបាកច្រើនឥតគណនា និងភាពអត់ឃ្លានក្នុងប្រទេសកម្ពុជាក៏ដោយ គាត់នៅតែមិនអាចយកឈ្នះជំងឺកូវីដ១៩ បានឡើយ ក្នុងពេលបំពេញការងារនៅអាមេរិក។ យើងទាំងអស់គ្នាសូមសំដែងនូវការដឹងគុណចំពោះការលះបង់ដែលមិនអាចបំភ្លេចបានរបស់វីរបុរសទាំងឡាយដូចជា វេជ្ជបណ្ឌិត លឹម លីណាត។
ក្នុងនាមគ្រួសារសមាគមសុខាភិបាលខ្មែរនៅអាមេរិក (CHPAA) ខ្ញុំសូមចូលរួមរម្លែកទុក្ខដ៏ក្រៀមក្រំនេះចំពោះគ្រួសារគាត់។ សូមវិញ្ញាណក្ខន្ធ វេជ្ជបណ្ឌិត លឹម លីណាត បានជួបតែសុគតិភពកុំបីឃ្លៀងឃ្លាតឡើយ!
***A MESSAGE FROM CHPAA TO YOU***:  
SAVE THE DATE!!
CHPAA 1st Virtual Gala WHEN: November 7, 2020 with pre-show @5:30 PM PST! 
Please join us for a fun, interactive and entertaining night! We have amazing singers and artist ready to entertain you and your families.
Please like and help share. Thank you for your continuous support! 
***LIVE EVENT LINK***: https://facebook.com/events/s/chpaa-virtual-gala-2020/235352597913323/?ti=icl 
We will have performances from Jay Chan Muzik, Boty Phen, Doung Virakseth Cambodia, Soup Pha, and Graffiti Gamer (Ritchie Kong).
Our deepest gratitude to our generous 2019 – 2020 supporters

 
 
 
 
$5,000 and above
 
Thong Family Trust (Dara and Phillip Thong, trustees)
 
Lousiana Famous Fried Chicken (Mr. Michael Eng)
Alex & Cindy Lim
 
Vannarith So, MD
Salan Thong, PharmD
 
 
 
 
 
 
 
 
 
$1000 – $4,999
 
Eddie and Nancy Lim
 
Cathy & Cliff Moffatt
In Loving Memory of Bruce Chi
 
Truoy & Vinaya Nor
Kestutis Kuraitis, MD
 
Hein Nguyen
Kim Ton
 
Somaly & Jody Rawles
Kosal & Suki
 
PS Affairs
Lenich Lim
 
First Choice Bank
Linda Chang
 
Nicole Lim
Seang Seng, MD
 
Paul & Annette DiCarlo
Seng & Sodalin Lieu
 
Sopheap Tang, DMD
Stanley Black & Decker
 
Golden Donuts and customers
Tony Chi,DMD
 
Song Tan, MD
Yaling Erin Lee & Khoung Phan
 
Anonymous
Daniel Chan, MD
 
 
Robert Yaga, PharmD
 
 
 
 
 
 
$500 – $999
 
Denon & Susan Dang
 
Oeut Peralta
Frank & Vikki Hu
 
Brian M. Kar
Hak Heng Sheang Jewelers
 
Chea & Christine Lay
Heang Chhun Heng Jewelry
 
Nary Rath Dien
Leang (James V. Horn)
 
Natalie Mao & Family
Leng & Diana Tang
 
Sunni's Marketing Corp (Sunnarak Thong)
Maklyka Kol
 
Neary Liim
Mao & Sovanna Chhay
 
Hai & Davyda Lim
Min Qin
 
Janet & Jeff Conklin
Newport Seafood Group Inc
 
Adrienne Fang, DDS
Sean Miller
 
Cambodian American Friendship Foundation
Stanley Lim, CPA  A Professional Corporation
 
Cynthia Ly, PharmD
Sunthary Ly Del Castillo
 
Danny & Celestina Chen
 
 
 
 
 
 
 
$100 – $499
 
Irit Barak
 
Soksovanna Family
Jo Dion
 
Jennifer Leng & Eddie Quach
Karen Nga
 
Anonymoous
Kheng Tea & family
 
AP Designer Jewelry
Lay Siv Lak
 
Berly You
Leslie Khou
 
Carey Cox
Lily & Daraty
 
Daraty and Phonny Nhek
Lynne Porter
 
H's Sport Shoes
Mark III Properties
 
Mengly Chea
Michael Eng
 
Mouk & Tary Lim
Nick & Connie Pheng
 
Naomi Granvold
Oeut Oeun
 
Peter & Anna Ov
Olivia Ngo
 
Network for Good
Patrick Keo
 
Kenny Taing (NY Life)
Payson Lederman
 
Adelmo Banchetti
Renato Galano
 
Alexander Lieu
Sam and Rose Chrouk
 
Anonymous
Samphoun Sar
 
Arthur Fine, JD
Sara-Vuth Ith
 
Chim Lieng Lang & family
Sary Ith
 
Henry & Helen Ung
Tha Heng
 
Hong Lim
Vannee Mak
 
In Loving Memory of Sou Lang Yeav
Melisa Seaberg-Alvarez, PT
 
Jack Zahniser
Chantha Heang & Family
 
Joe Akers
Denise Doering
 
Justin & Jason Lim
Jenny Cheng
 
Karestine Nga
Kyle and Katelyn Lee
 
Matthew & Maggie Heng
Kim Soy Nguyen
 
Neil Sullivan, MD
Carol Grabowski
 
Syna Ul
Pledgeling Foundation
 
Tevy Smith
Amara Im
 
Yanna Keam
Chan Buy & Jout Tom
 
Chanwantha Men
Channary Seng
 
DeAnn McAllan
 
 
 
 
 
 
 
Up to $99
 
Keang Meng
 
Sarah Ath
Kesney Say
 
Shabnam Rahimi
Sophie Wherrit
 
Shaun Lee
Amanda & Chang Tang
 
Suely Saro
Ath Tuot & Radina Tuot
 
Suzy & Randy
Celeen Hu
 
Teresa Dougherty
CK's Donuts
 
Ve & Family
Dinasath Suon
 
Yun Yvnn
Jennifer Wertz, MD
 
Rachel New
Jout Mee
 
Soveacha Bun
Kerry Kol
 
Jerry Long
Kerry Ladd
 
Lak Lay
Lee & Shothonna
 
Ricky & Bopha
Lee Po
 
Vuth
Lucia Navar
 
Beth Butler
Maria Mon
 
Lak Lita
Melvin Gonzalez
 
Robert Douglas
Michael Pollock
 
Sofia Morrison
Paula Finn
 
Jennifer Mauricio
Sal So
 
Jim and Annre Marie Garcia
Sanira Mao & Family
 
Luy Yee
Richard Kong
 
Moy Heang
Amanda Enos
 
Sandy Herrera

Gwendolyn Nable

 
 
 
 
 
 
In-kind
 
Frank & Vikki Hu
 
Lakers tickets
Clint Cearley
 
Charlie Chaplain painting
Linath Lim, MD
 
Candy assortment
 
 
 
 
 
 
                                      Kompong Speu Province 2020 Operating Room Building Project

Clifford & Cathy (Pich Boreth) Moffatt

 

Chea Lang Huon

Hang Chhay & Huy Ting Ung

 

Somboon & Pich Borin Manestitaya

Michael Eng

 

Bo & Robin Sokho Chay

Tony & Kech Heang Taing

 

Guek Jou Ung

In Loving Memory of Lok Kru Pich Yohn

 

Cheak Heak

Kenny & Jenny Taing

 

Tony Chi, DMD

Gracie-Ann Dinkins, MD

 

Song Tan, MD

Omnicare Home Health

 

Te Tech Sroun & Leng Bun

Vic & Leang Heak Horn

 

Visal Nga, DO

Tea Suyheng & Chea Huymheng

 

Chamroeun Heng, MD

 
 
 
 
 
 
                              Kompong Speu Province 2020 Mission Meals
Louisiana Famous Fried Chicken (Mr. Michael Eng)
 
 
 
 
 
 
 
 
 
 
 
                              Kompong Speu Province 2020 Patients Snacks & Water
 
 

Golden Donut Customers

 

Lee & Sothonna

Hai Lim & Family

 

Chan Vuy & Jout Tom

Kheng Tea & Family

 

Jout Mee

Denise D. Doering

 

Lak Lay

Ve & Family

 

Luy Yee

Suzy & Randy

 

Muy Heang

Dinasath Suon

 

Sanira Mao & Family

Ricky & Bopha

 

Lily and Daraty

Amanda & Chang Tang

 

Anonymous

 
 
 
 
 
 
                     Kompong Speu Province 2020 Mission Canopy, Chairs, Tables
 
 

Chea Lang Huon

 

Chea Heak
SAVE THE DATE!!!!
Due to COVID19 pandemic, CHPAA will be hosting our very 1st Virtual Gala 2020 on Saturday, November 7, 2020 @6:00 PM PST.
Pre-show starts @ 5:30 PM PST. Please join us virtually for a fun-filled night with great entertainments from Cambodia and U.S, guest speakers, a tribute to healthcare workers, silent auctions and many more…