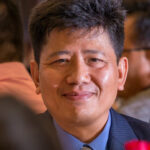 Michael Eng
President of Louisiana Famous Fried Chicken
Michael Eng was born in Battambang, Cambodia and is a survivor of Khmer Rouge genocide regime. In 1992, he emigrated to America, settled, and took up his first job as a janitor of a fast-food restaurant in Los Angeles. In 1993, Michael went to work for a Louisiana Famous Fried Chicken restaurant, starting as an assistant cook before being promoted to a cook. After gaining a few years of restaurant experiences and some savings, Michael bought his first restaurant– a small Chinese fast food take-out and successfully operated the business. In 2000, Michael bought a taco/hamburger-stand and converted it into his dream business—the Louisiana Famous Fried Chicken.
Michael struggled in the beginning but with hard work and excellent customer service, he was able to improve food quality and increase sales within a short few months. Now with confidence and experience, Michael opened a second restaurant six months later, and thereafter, a third, and more. In 2009, Michael achieved his ultimate dream by purchasing Louisiana Famous Fried Chicken corporation, the whole franchise. As of today, there are 180 restaurants strong operating nationally and internationally with locations in India, Vietnam, and Bolivia.
Michael is not only a successful entrepreneur but also a philanthropist. He has volunteered for the past two medical missions with Cambodian Health Professionals Association of America.  He, along with a few friends, is also a leading organizer to help promote education by bringing school supplies and backpacks to over 10,000 underprivileged students in Cambodia. Michael is a proud Cambodian American, a classic example of the American dream.