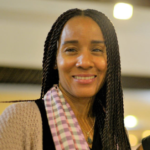 Gracie Ann Dinkins, MD
General Surgeon
Dr Dinkins was born in Northern California to Liberian parents who were pursuing graduate studies in the United States. They returned home to Liberia when she was 5 years old, and that is where she completed her high school education and embarked on a university degree in Chemistry. This was interrupted by a civil war that closed all schools and colleges, led to the loss of many of her classmates, and forced her to relocate to Carson, California. She entered Cal State University Dominguez Hills and completed a B.A in Chemistry. In 1987 she began medical school at U.C. Irvine, and received her Doctorate of Medicine in 1991. She had been a recipient of a research fellowship during her undergraduate education at Charles Drew University, and that was where she focused on returning to after medical school, for an internship and residency in General and Trauma Surgery. Dr Dinkins interrupted her studies once again during residency, this time to complete a Wound Healing Fellowship at U C San Francisco and prepare for the 1996 Atlanta Olympics as an athlete for Liberia. Immediately after the Atlanta Games she recommenced her residency and graduated from the King-Drew Surgical Program in 1999. She stayed at the institution for 2-3 years afterwards as a Fellow and pursued clinical research, then began a busy career as a trauma surgeon which continues to today.
Dr Dinkins also competed for Liberia in the 2000 Sydney Olympics, but decided to hang up her spikes and instead concentrate on organizing teams for her country. From 2006 to 2012 she took many teams of Liberian track and field athletes to various Continental, World and Olympic events. Currently she is an athlete mentor and advisor to the Liberian National Olympic Committee.
Her passion is for helping people in acute need. She has served on mission trips and worked in various locations such as Haiti in 2010, Vietnam in 2014 and Sierra Leone in 2015. As a committed Christian, her dream is to become a full time missionary surgeon at some point during the next decade of her life.